The Bethard Casino is the flagship of the Bethard Group, a company that, in addition to its own casinos, also operates a white label platform, giving the ambitious company a firm finger in the online casino pie.
Pros
Payouts in 24 hours
Favorable Bonus Conditions
Wide Range of Online Slots
Live Chat Helpdesk
Cons
Payout Limit: Prizes > $50,000 in 10 Installments
Bethard casinos can be found on the internet both under their own management and owned by others. It makes Bethard's position difficult and interesting at the same time. Running a white label platform is financially interesting, but when a casino on the platform acquires a bad reputation, this naturally also reflects on your own Bethard casino. That is why Bethard has a strict policy on complaints and negative reviews. In this way, I hope to always stay on the ball. Staying on the ball is also what one of the owners of the casino company does. That is namely top football player Zlatan Ibrahimovic, who is also the face of its own casino. We leave the platform for what it is and focus on the casino for this Bethard casino review. Or actually casino and betting office because these two activities actually run parallel to each other. Permit technically, Bethard did the homework well. It has no fewer than three casino licenses. In addition to the MGA, the UK and Scandinavian gambling authorities have also licensed the casino.
Bethard is also an excellent online casino in terms of customer service, which mainly impresses with the speed with which it makes payouts. The help desk also earns plus points for the casino. This can be reached 24 hours a day via live chat and the casino is also easily accessible by email. A question or a complaint is dealt with quickly, friendly and professionally and as a player you really get the feeling that the employees of the casino are committed to solving the problem for you. This casino can deposit via Credit Card and Trustly, two banking methods that are familiar to Dutch players. You can deposit from $10 and, if you have that much money, you can transfer a maximum of one ton per transaction. When Bethard has to pay out, the casino does this quickly and well. The only thing that stands out is that they pay out $50,000 in multiple monthly installments, rather than in one lump sum. For example, if you win $80,000 on a poker game, Bethard reserves the right to pay you this amount in eight monthly installments of $10,000. You receive your winnings, but the casino takes some time for it.
Bethard Casino Bonus Code
Bethard casino no deposit bonus codes can be exchanged at the casino for free spins. In addition to Bethard casino no deposit spins, there is a 100% bonus up to $100. What makes this bonus more attractive than the same bonus from other casinos is that with a maximum of $10 per spin you go through much faster and can tick off the wagering requirements in half the time, making it more realistic to actually clear the bonus play. The range of games at Bethard Casino sounds like a Swiss clockwork and that makes playing around with bonus credit extra fun. You can play on very nice slots. You can also wager bonus credits in the live casino, but keep in mind that these only count for 50% of the conditions.
The Bethard Casino is very well organized and is certainly a candidate for a top ranking in our Online Casino Top 100.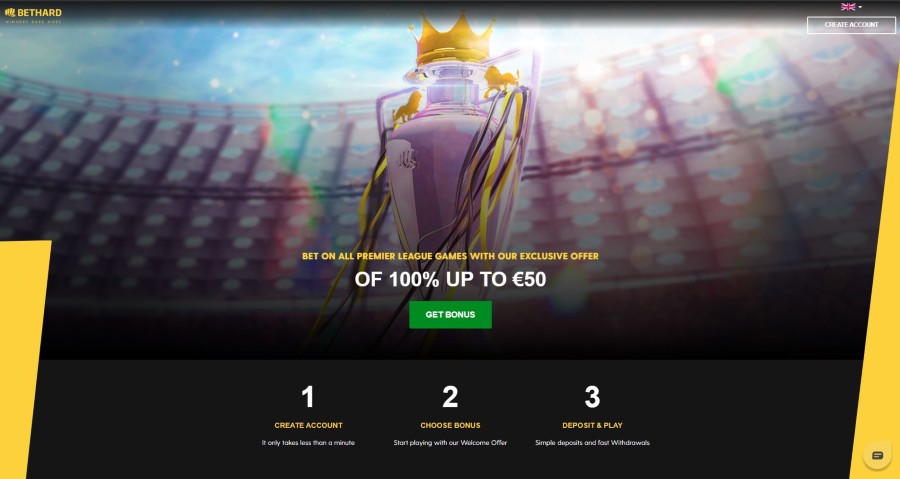 FAQ